Meet Dr. Lauren Alvarado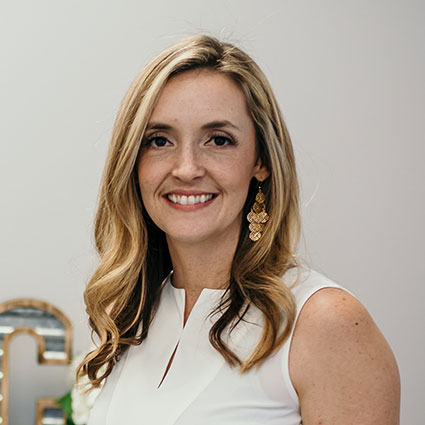 Dr. Lauren Alvarado is a dedicated chiropractor co-owning Restoring Life Chiropractic alongside her husband, Dr. Eric. A Texas native, her journey toward chiropractic care began with a life-altering health experience, which redirected her career path from medicine to chiropractic.
Experiencing a Myriad of Life-Changing Challenges
As a mother of three, Dr. Lauren empathizes with women as they go through the various stages of motherhood, from pregnancy and birth to postpartum and beyond. She is committed to supporting women throughout these transformative periods.
Dr. Lauren's own life experiences have molded her into a compassionate and well-rounded chiropractor. Helping women and children enjoy more ease in their daily lives, free from the trauma and stress health challenges can bring, is the propelling force in her career. That's what keeps her showing up and giving all she can to her community.
Her journey includes a challenging first birth experience that sparked her interest in pregnancy, birth, and breastfeeding. After an emergency Cesarean birth, Dr. Lauren was exhausted and feeling defeated but remained committed to her desire for natural parenting, no matter what it took. After two months, she got her milk supply to where it needed to be, allowing her to nurse her daughter until she was two years old.
Beginning Her Journey to Excellence
Dr. Lauren graduated from Parker University in 2014, earning her Doctor of Chiropractic and Bachelor's degree in Health and Wellness and Human Anatomy. Her passion now lies in serving the pediatric, prenatal, and women's health community, where she aids families in navigating the trials of parenthood.
After her harrowing birth experience, Dr. Lauren became obsessed with learning more about pregnancy, birth, and breastfeeding. Trained as a doula in 2012, she has attended over 800 births, providing balance to mothers' pelvises and proper alignment for smoother natural deliveries to help prevent unnecessary birth trauma. Serving as a doula and chiropractor all in one has been, on a mental, emotional, and spiritual level, one of the most profound things she has ever done.
Dr. Lauren focuses on educating mothers about building the right birth team, preparing their bodies for birth, preventing birth trauma, understanding their rights as a parent, and supporting postpartum recovery. She also guides parents through early childhood challenges like colicky and cranky babies, breast and bottle feeding, teething, and other challenges a new mom may face.
EXPLORE OUR SERVICES »
Addressing Common Childhood Conditions Naturally
Dr. Lauren's experiences as a mother led her to address issues like tongue and lip ties in newborns. She specializes in upper cervical chiropractic adjustments and myofascial release to enhance feeding, swallowing, and head and neck mobility. She also specializes in torticollis and plagiocephaly to help restore normal range of motion in the head and neck and prevent using helmets to correct the head shape.
Moreover, Dr. Lauren is dedicated to preventing undetected birth trauma, a significant cause of neurological stress in children that may affect their growth and development. She wants every child to have a healthy start to life.
A Focus on Treating Neurodivergent Conditions
After her son's traumatic brain injury and diagnosis of Tourette Syndrome, Dr. Lauren now focuses on treating neurodivergent conditions using chiropractic methods and INSiGHT™ neurological scans. She and her husband trained with the top neuro-based pediatric chiropractic group, increasing their clinical knowledge about conditions like autism, OCD, Asperger syndrome, ADD/ADHD, ODD, and more.
After applying all their skills and knowledge, their son regained his speech, his stutter vanished, his motor tics disappeared, the meltdowns calmed, and they had their little boy back. Dr. Lauren's son's recovery demonstrated the body's remarkable healing potential.
These experiences have taught Dr. Lauren never to give up on the body's ability to heal and thrive. She guides individuals through their unique health challenges based on evidence-based methods of care, offering natural alternatives for optimal well-being.
Serving the Needs of Women and Children
Today, Dr. Lauren proudly serves a diverse patient population, from children with basic wellness needs to complex autism. She also can help with
Neurodevelopmental disorders
Eating disorders
Anxiety disorders
Seizure disorders
Cerebral palsy, brain malformations and disorders
All types of children's special needs
Women's complex pain disorders
Anxiety and mental health challenges
PCOS and fertility issues
Pregnancy challenges
Her ultimate goal is to help individuals and families experience the fullness of life through optimal health. You and your kiddos deserve to feel well and fully participate in all the joy life has to offer!
Your Path to Wellness Starts Here
Dr. Lauren believes that well-being is the foundation for experiencing life's joys. She is committed to helping you and your family feel well and fully participate in all life's wonders. Join her on your journey to better health at Restoring Life Chiropractic. Call today!

Dr. Lauren Alvarado | (817) 457-3030