Pregnancy Chiropractic at Restoring Life Chiropractic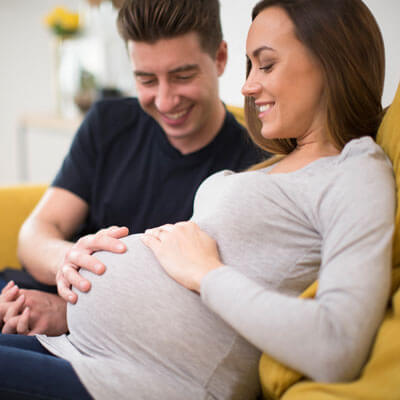 Pregnancy is one of the most special times of life. You should be able to enjoy it, feel comfortable and look forward to your baby's arrival. As your body creates your baby, you want to make sure you're both thriving. At Restoring Life Chiropractic, we love helping expecting moms get more from their pregnancy experience.
The Top Reasons to See a Chiropractor
When you're pregnant, chiropractic can help with these major areas:
A healthier pregnancy. By maintaining your nervous system health, chiropractic can ensure you stay well and that your baby grows and develops as they should.
A comfortable experience. As hormones flood your body and your center of gravity changes, your posture and spinal alignment shift. Your pelvis and low back must be in proper alignment for your comfort and to ensure baby is in the optimal position.
A labor and birth you look forward to. If your pelvis is aligned, there is less tension on your baby. They have a better opportunity to get into the right position for birth. Plus, chiropractic practice members have shown to have easier labors with fewer interventions needed.
A peaceful postpartum period. After you have had your baby, being under chiropractic care can help you have a smoother transition into breastfeeding, bonding with your baby and getting into new routines. It will release tension from labor and birth and the aches that come from holding baby or frequent breastfeeding.
Tailored Care During Your Pregnancy
For every practice member, we create individualized care plans. It's no different for expecting moms. We'll perform a thorough examination with state-of-the-art testing to determine where you need help and how best to give you that help you need. For your adjustments, a pillow cradles your baby bump comfortably and safely. We use gentle yet highly effective techniques, always making sure that you feel ready to begin before your adjustment starts.
Commonly Helped Conditions
Pelvic Pain
Lower back pain
Round ligament pain
Hip pain
Sciatic nerve pain
Frequently Asked Questions
You want your nervous system to be calm so that your baby can grow and develop as they should. It'll mean a happier, healthier baby once they arrive in our world. When your nervous system is calm then healing, growth and development can occur naturally and easily. The biomechanics of your body are important, too, ensuring your pelvis is balanced and prepared for an optimal birth. As a result, your baby can have an easier time getting out when the time comes.
At every point in your pregnancy or pre-pregnancy journey, you can benefit from chiropractic. If you're trying to conceive, are pregnant for the first time or have had multiple pregnancy, regular care can give you incredible benefits.
Yes! The Webster Technique is used on expecting moms to make sure that intrauterine constraint is reduced. In doing so, your baby will have the best possible chance of getting into the optimal position for birth.
We use advanced INSiGHT™ scanning technology to objectively determine when corrections have been made and your body is sustaining them. When the scans are all clear, we won't need to see you very often. Up until that point, we'll likely see you about three times a week.
It's a great idea to come in for an adjustment as soon as your labor begins. You can then go into an active phase of labor, knowing your body is in the best possible shape for delivery.
Call Now
If you're interested in learning more, contact our team now! We'll answer all your questions about pregnancy/prenatal care Arlington. Free consultations are available.
CONTACT US »

Pregnancy Chiropractor in Arlington TX | (817) 457-3030